Monsieur David al Comediada: il Festival Internazionale di clown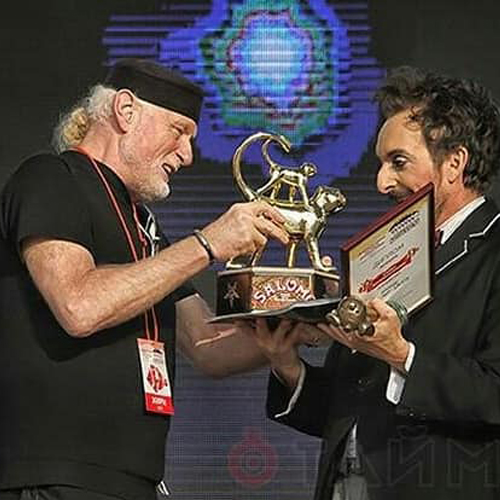 Monsieur David al Comediada: il Festival Internazionale di clown
Monsieur David al Comediada – A Piedi si va lontano…ce lo ha dimostrato Monsieur David che, è appena rientrato in Italia dopo il grande successo di pubblico al Festival Internazionale di clown Comediada una 9° edizione fortunata che ha visto in giuria importanti rappresentanti del panorama circense, comedy e varietà mondiali come Eugene Chaplin, figlio di Charlie Chaplin, Harry Owens (Salome' Theater), il Talent scout Yves Sheriff (Cirque du Soleil) Alexander Pohrebnyak (direttore cabaret Odisseo) e molti altri.
Georgy Deliyev
Il Direttore artistico del festival Georgy Deliyev, fondatore del Masky show theater in Odessa Ucraina, quest'anno ha voluto aprire il festival con lo spettacolo Italiano "La Danse du pied" realizzato da Monsieur David e l'artista danzatrice Federica Gumina, che con le sue coreografie ha impreziosito la scena, uno spettacolo musicale realizzato con mani e piedi, che ha catturato l'attenzione del pubblico in sala conquistando anche il premio speciale della giuria consegnato da Harry Owens (Salomè).
STUNTMAN OF THE HIGHEST CATEGORY a Monsieur David al Comediada
Tra i quattro premi più ambiti, il premio "STUNTMAN OF THE HIGHEST CATEGORY" è stato consegnato a Monsieur David che ha condiviso il suo desiderio di continuare questo viaggio artistico in tutto il mondo.
Sarà un 2019 di brillanti realizzazioni sostiene Antonio Moccia THE MAC LIVE MANAGEMENT pienamente soddisfatto del risultato.
Monsieur David
Torinese d'origine, classe '74, all'anagrafe David Rausa. In arte, Monsieur David.
Dopo gli studi artistici ha dato spazio al "viaggio", per mescolarsi tra diverse culture del mondo attingendo da vari stili creativi. Ha lavorato per anni nei villaggi turistici, come attore e intrattenitore. Ha sviluppato progetti di diversa natura, scoprendo la sua passione per l'improvvisazione teatrale. Il successo lo deve anche a popolari trasmissioni televisive, come Domenica In e Colorado.
Oggi segue con attenzione il teatro di figura, portando in giro nei teatri la sua ultima intuizione. Con i piedi, e attraverso storie musicali, dà vita a racconti contemporanei coinvolgendo grandi e bambini.
Monsieur David al Comediada – riferimenti